Entartete Kunst
© Werner Hammerstingl, 1998
---
"Our patience with all those who have not been able to fall in line
is at an end. ... What you are seeing here are the crippled products
of madness, impertinence, and lack of talent. ... I would need
several freight trains to clear our galleries of this rubbish. ...
This will happen soon"

Adolf Ziegler,1937
President of the Reich Culture Chamber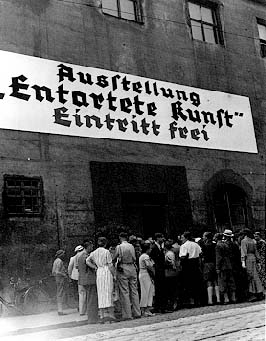 The official Nazi exhibition of Entartete Kunst (Degenerate Art) opened in Munich on the 19th July 1937, one day after the first "Great German Art Exhibition" premiered. A culmination of Hitler and Goebbels' purge of all remaining modern art held in both public and private collections in the Reich, the exhibit was designed to ridicule and denegrate creative works not upholding "correct" National Socialist virtues.
More than 650 important paintings, sculptures and prints as well as books and musical notations were exhibited in this, the most widely seen exhibition of modern art. In Munich alone two million visitors came to this exhibition and when it toured Germany and Austria for a further three years, another million people saw this exhibit.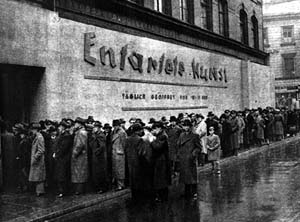 The exhibition was organized by such subject matter as "Insult to German Womanhood" and "Mockery of God"; it drew upon sensationalism to incite controversy and public furor. Minors were barred from the show, the pretext being that decent German youth needed to be shielded from the depth of the artworks' obscenity, lest the future of the Reich be corrupted.
Entartete Kunst portrayed the eclipse of an age of "decadence and chaos", while the Great German Art exhibit heralded the dawn of a new epoch of Governmental control of the Arts: sanitized, uninspired, and devoid of dissent.
Entartete kunst was just the tip of the iceberg: In 1937 alone more than sixteen thousand examples of modern art were confiscated as 'degenerate' by a committee headed by Joseph Goebbels, Hitlers second in command (and Minister for Public Enlightenement and Propaganda)
On March 20th, 1939, the Degenerate Art Commission ordered over one thousand paintings and almost four thousand watercolors and drawings burned in the courtyard of a fire station in Berlin. Other works were auctioned off to the highest bidder (see example below of the auctioning of Van Gogh's 'Self Portrait' which was sold to the winning bidder, a Dr. Frankfurter for $US 40.000 at Gallerie Fisher, an Auction House in Lucerne, Switzerland).
The final solution for artwork deemed unacceptable for public consumption was complete.